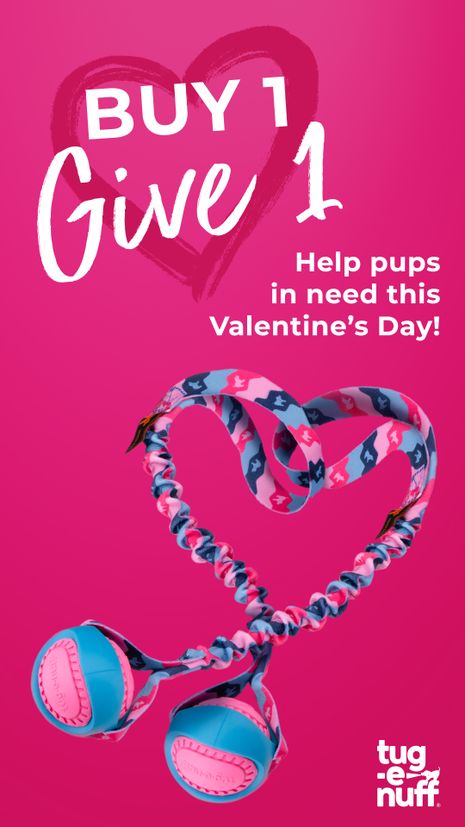 Get ready to show a rescue some love
We've got a very special something(!) planned to celebrate Valentine's day this year!
For every toy that you purchase from Tug-E-Nuff website this Valentine's Day, they will donate a toy to a dog in rescue.
It's a simple way to show some love to not only your own dog, but to the many dogs in rescue who really need it.
They have teamed up with some hardworking rescue centres to spread a little love to dogs in kennels…..  And we hope you'll join us for a tugtastic outpawing of puppy love! 💕💕
Together we can make some happy tails wag and put a sparkle back in the eyes of some very special dogs.
It's for one day only, so keep your eyes peeled! 👀
We'd love to introduce you to the three incredible charities we're supporting who work hard to find rescue dogs their happy furever homes. 
Animals in Distress
Animals in Distress is a Rescue Centre caring for South Devon's pets when their lives fall apart. 
Whether due to bereavement, illness, breakdown of relationships, financial hardship, straying, cruelty, neglect or abandonment, they never turn away an animal in distress. 
Sprocker Assist & Rescue 
Sprocker Assist & Rescue (SAR)  is a Sproker Spaniel rescue charity run by a small but very dedicated team of volunteers. 
In recent times, they have found themselves with much more complex dogs with a range of challenging behaviours. 
They have their own dog behaviourist who works with fosterers and adopters. If a sprocker needs 1-1 behavioural input outside of their area, the rescue will fund a behaviourist local to the dog's new family. 
St Giles Animal Rescue
St Giles Animal Rescue is situated just outside of Taunton, Somerset. The charity takes in many of the County's strays, pets surrendered by owners that are no longer able to care for them, rescues from the puppy farm industry and rehomes ex-racing greyhounds.
They provide the care, veterinary treatment and training each dog needs, regardless of cost, to prepare them for their new lives. 
Rescues need our help now, more than ever
The Association of Dogs and Cats Homes (ADCH), surveyed over 60 rescues and shelters across the country about the impact of the  cost of living crisis.
A heartbreaking 92% of shelters were seeing more people wanting to hand over a dog compared with pre-pandemic levels. These rescue centres are doing an amazing job of supporting dogs in need, and they need our support.
Will you show a rescue dog some love this Valentines? 
For one day only, Tug-E-Nuff are offering you the opportunity to Buy 1 & Gift 1 treat your own dog to a fabulous tuggy and they'll give a free toy to a dog in rescue. 
 You pay no extra, buy 1 toy - give a toy (for free)
Spread the love and shop now.......
Click here to go straight to Tug-E-Nuff website